RETRO
Retro is a collection of generative patterns with characteristics of the 60s and 70s style.
.

produced by: Marlena Kepa
CONCEPT
Colourful, swinging 60s and great 70s were a moment of experimentation, and the young generation set a completely new path and freedom in design. This was revolutionary for art, architecture, fashion and music. Frequently introduced geometric patterns and strong color revival turned out to be timeless. Geometry and the inspiration of forms in its use in designing even the simplest forms of design turned out to be reliable. Due to my previous experience in designing prints on fabrics and printing directly through screen printing, I wanted to create a collection of colourful reporting patterns, which I could use in the future in the production of, for example, furniture upholstery or printed clothing fabrics. Creating even a simple report using a screen printing or a software requires a lot of work so that the report turns out to be perfectly reproducible down to the millimetre.I wanted to take advantage of pattern duplication through coding and create unique patterns using code. Thanks to the coding, I was able to obtain a completely new technique of designing prints for myself, which I can develop in the future.
VISUAL PROPERTIES
In Tthe collection I decided to base on geometric forms and slightly contrasting colors. In the coded patterns, I mainly used the forms of squares, rectangles and circles. However, I also decided to take into account many variations with the use of vectors,thanks to which I could obtain unique geometric forms.On the other hand, I wanted to keep the colors in similar tones and not necessarily referring to the Mondrian colors, but more in the form of an experiment with various light contrasts, which are nonetheless coherent as a whole. I wanted to refer to the reported patterns from the 60s and 70s, which consisted in duplicating geometric elements, lines & dots .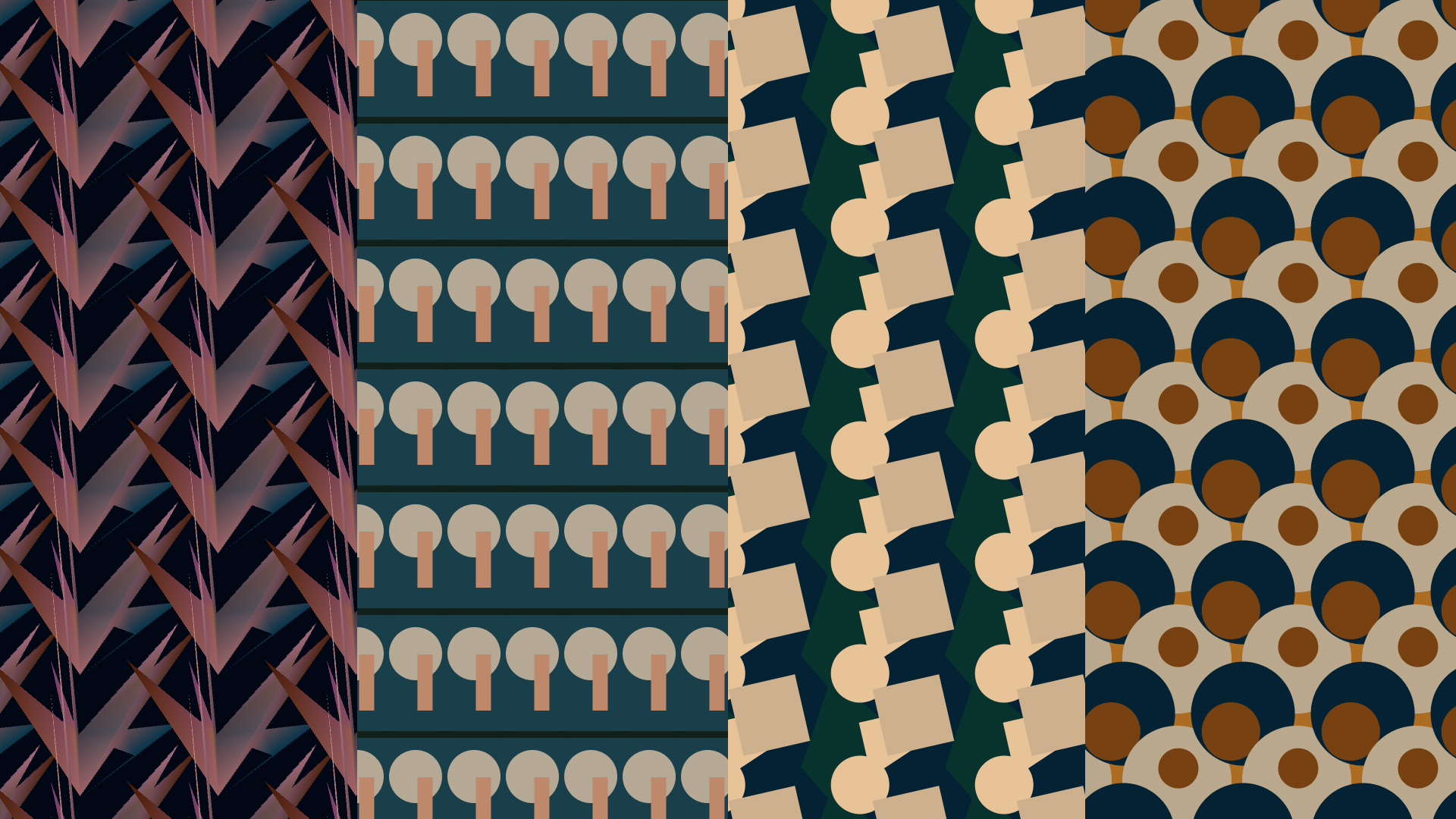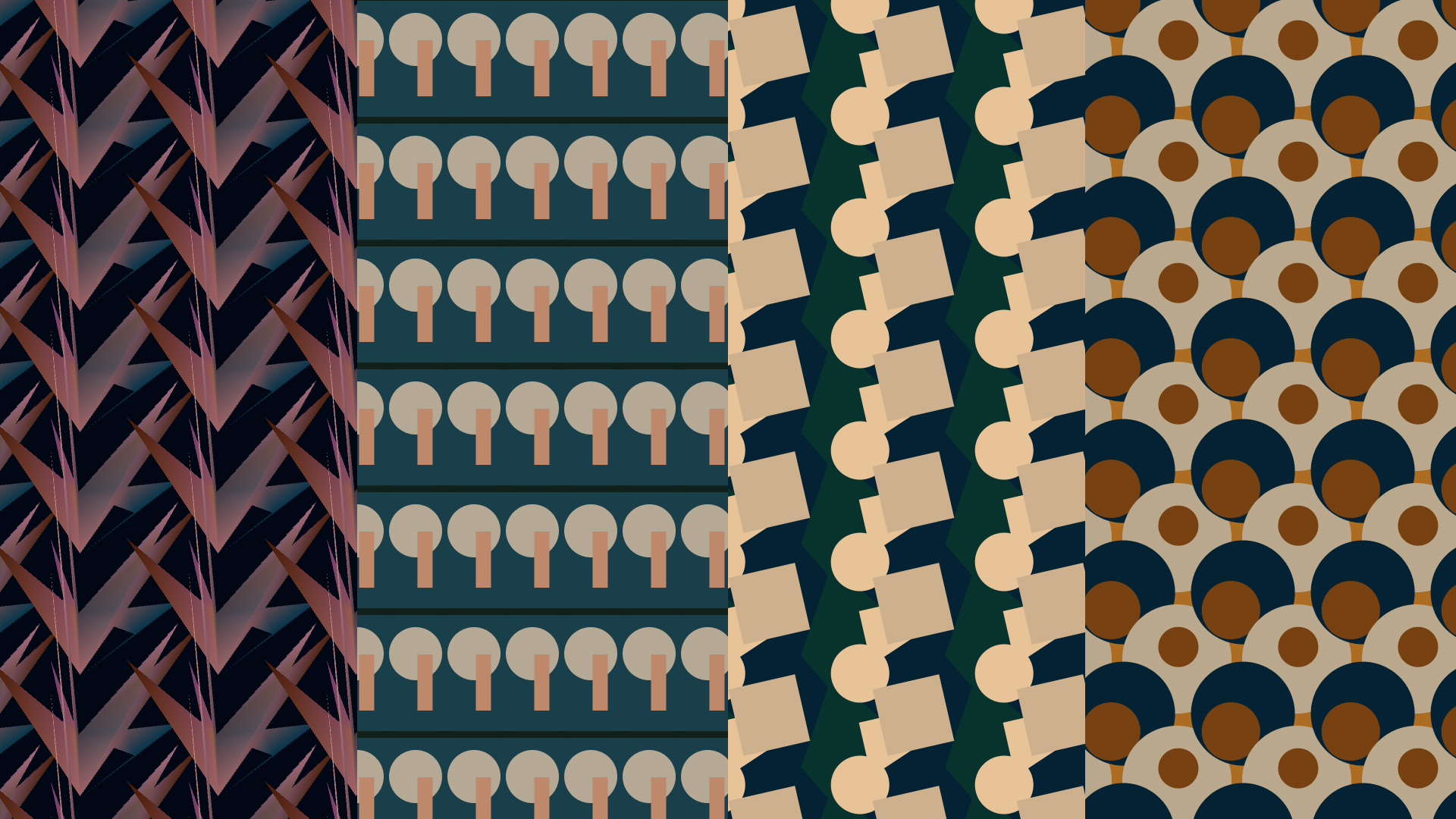 TECHNICAL
Software:
Processing 3.5.4
Adobe Photoshop 2020 (to combine the generated images and create images in the documentation)
Adobe Premiere Pro 2020 (to make a video)
FUTURE DEVELOPMENT
In the future, I see a great potential for using these patterns for physically printed fabrics. As I mentioned earlier, I have a lot of experience in printing graphics on fabrics and I would like to use the generated patterns someday. In addition, I would like to add more color options that I could change by pressing individual keys. Thanks to this, I could get many different color options for given patterns. Additionally, I would like to add interactive modifications of geometric forms and try to combine the concept with Physical computing.
SELF EVALUATION
Most of the time I was convinced that I would definitely want to work with a completely different concept, but in the end I assumed that I could use my previous experience and refer to my background. I am satisfied with my concept and the task made me realize how much I' ve learnt. Despite the difficulties at the beginning of the project, I coped with it and I am satisfied with myself. I like the visual side of it and I feel more confident in calculating or creating additional functions.
REFERENCES
"Pattern" by 권세준
https://www.openprocessing.org/sketch/870318

PDF Export
https://processing.org/reference/libraries/pdf/index.html