Cage
Uchan Sun
Cage is a digital collage to keep memories of the past tragedies about domestic violence towards females in China.
Concept
From social media including Weibo, I collected hundreds of comments under the recent news about domestic violence towards females. Social awareness and comments are like string and web that connect to the fate of Chinese women. I choose to visualize these connections and the pressure towards them.
Background
Last November, A Chinese beauty vlogger Yuya's claims of suffering domestic violence have reignited conversations about whether enough is being done to help victims. Meanwhile, Chinese Actor Jiang Jinfu Jiang Accused of Domestic Violence Again, after admitting to the abuse toward his ex-girlfriend in 2018. In December, The suicide of a Peking University student, reportedly following prolonged psychological abuse from her boyfriend who was annoyed with the fact that she was not a virgin, prompted heated discussions on Chinese social media over the mental health among couples and families. 
The frequent heat is not occasional. 30% of China's married women have suffered some form of domestic violence. It took Yuya, someone with a certain degree of social power and wits, to suffer five cases of abuse before she went public, so we can imagine how many more ordinary Chinese women are choosing to suffer in silence. Even worldwide, according to the data of the United Nations, only 40% of the female victims in domestic violence choose to call the police. The pressure from public, family, and culture made them become unseen-victim.
Visual inspirations
I took a reference from Chiharu Shiota, a Japanese installation artist. Mostly renowned for her vast, room-spanning webs of threads or hoses, she links abstract networks with concrete everyday objects such as keys, windows, dresses, shoes, boats and suitcases. Her art language expresses the intangible: memories, anxiety, silence and more, which correspond to my concept of "hurt and pressure".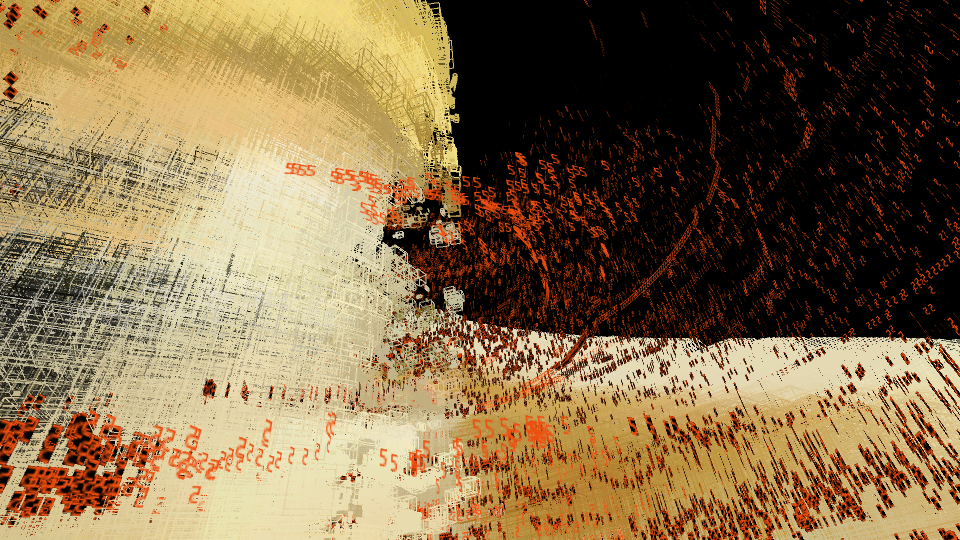 Technic
I use web scraper to collect the comments from Sina news and Sina weibo. Including the sub-comments(comments towards comments), the total number is over 5000. To process better in the visual work, I only showed hundreds of main comments.
On the other hand, I pixelate the screenshot from Yuya's released video. The 3D blocks can be controlled and scatter through the whole page.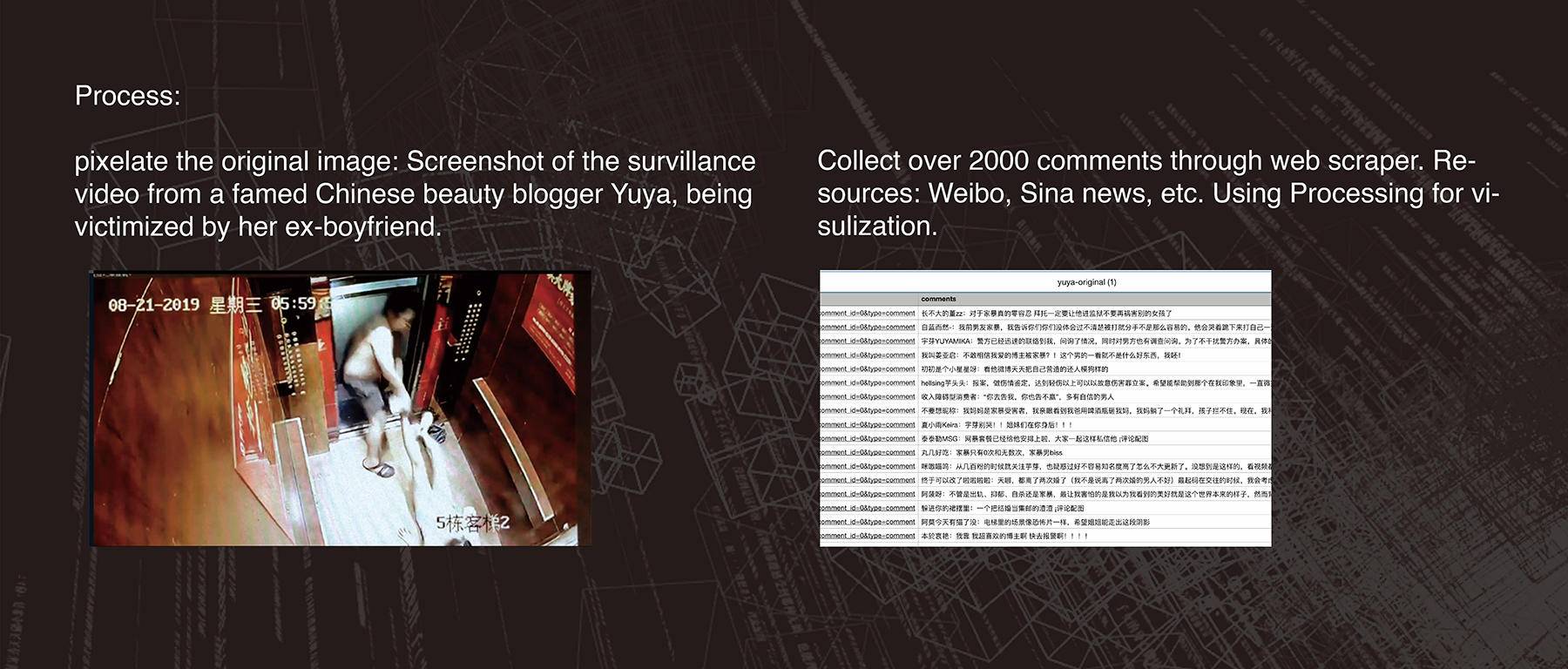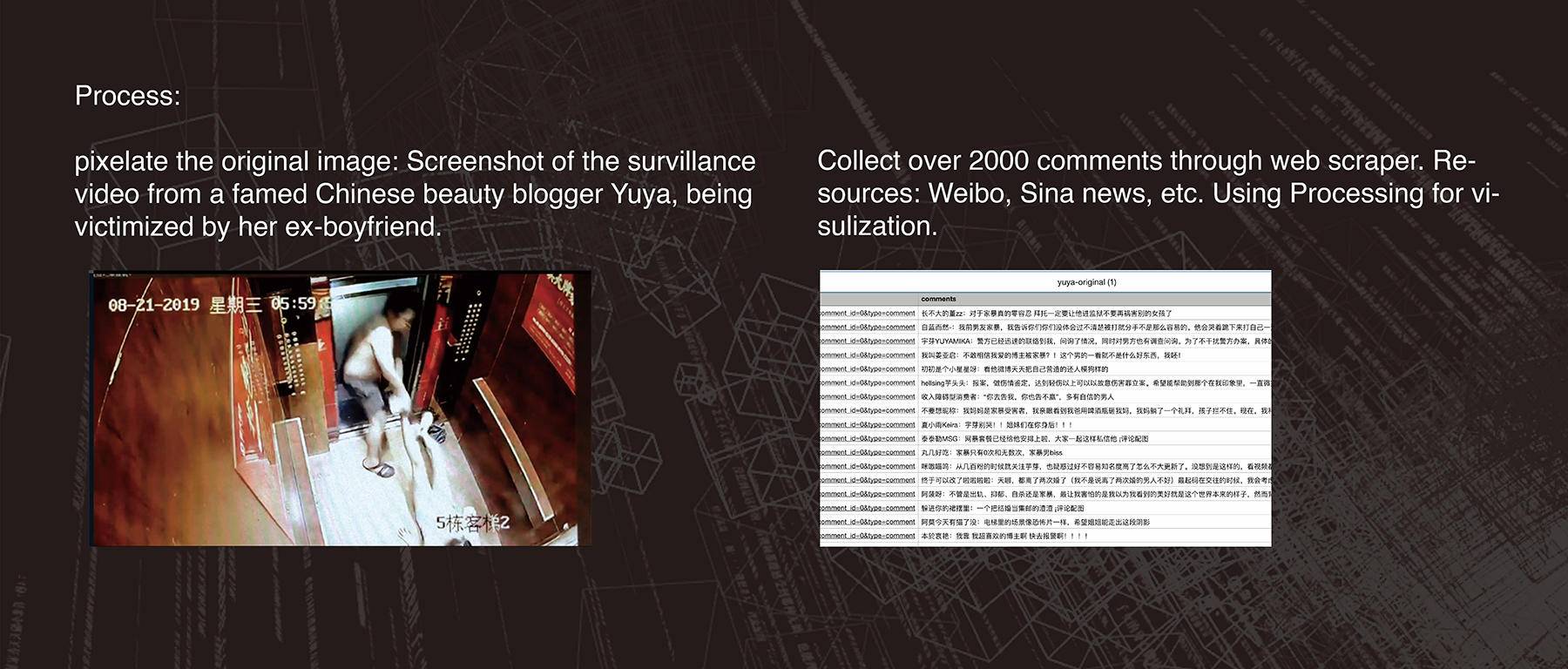 Reference:
Shiota Chiharu: The Soul Trembles
https://www.mori.art.museum/en/exhibitions/shiotachiharu/index.html
Chinese Actor Jiang Jinfu Jiang Accused of Domestic Violence Again
Chinese Actor Jiang Jinfu Jiang Accused of Domestic Violence Again
(Chinese) How much of the violence toward female is unseen
http://www.bjnews.com.cn/graphic/2018/11/24/524551.html
Shocking surveillance video stirs debate on domestic violence in China
https://www.inkstonenews.com/society/shocking-surveillance-video-stirs-debate-domestic-violence-china/article/3039581
College students's suicide reveals mental abuse by boyfriend: report
https://www.globaltimes.cn/content/1173409.shtml
Image and pixels - Daniel Shiffman
https://processing.org/tutorials/pixels/
Web scraper
https://www.webscraper.io/
(Chinese) Comments source
http://comment5.news.sina.com.cn/comment/skin/default.html?channel=gn&newsid=comos-hmutuec2326315
https://weibo.com/2656274875/IiEL9xtZR?type=comment
https://weibo.com/2675783603/IhRgEluqh?filter=hot&root_comment_id=0&type=comment